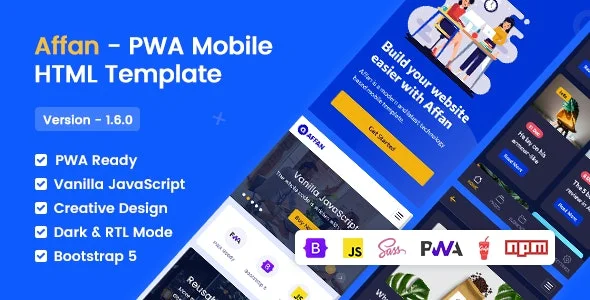 In an era where mobile presence is imperative, Affan – PWA Mobile HTML Template emerges as a savior for developers and businesses. Affan is a state-of-the-art, multipurpose mobile HTML5 template that is built on the foundation of the latest technologies. Boasting a modern design, it utilizes vanilla JavaScript, and Bootstrap 5 and is Progressive Web App (PWA) ready. Moreover, the template is crafted to adapt, featuring Dark Mode and RTL (Right-to-Left) support. Affan is a perfect blend of cutting-edge trends and modern coding practices. Its code files are meticulously organized and commented for easy customization, while ensuring that your application looks stunning on all screen sizes due to its responsive design.
Features
Bootstrap 5
Leverage the latest version of the world's most popular front-end component library to make your site responsive and mobile-first.
PWA Ready
Build Progressive Web Applications that load like regular web pages but offer functionalities such as working offline and push notifications.
Vanilla JavaScript
No dependencies on bulky libraries, providing faster load times and a smoother user experience.
220+ Elements and 100+ Pages
A treasure trove of pre-built elements and pages to expedite your development process.
Node Package Manager & Gulp 4
Manage dependencies and automate your workflow seamlessly.
SCSS
Use the power of Sassy CSS to write more maintainable and scalable style sheets.
Dark Mode & RTL Support
Cater to a global audience with a night mode and support for right-to-left languages.
Responsive and Customizable
Affan template is fully responsive and allows you to mold the design as per your requirements.
Varieties in Menus & Elements
Multiple options for header and footer menus, along with an assortment of form elements, sliders, charts and much more.
Automated Online/Offline Detection
Smartly detect the user's connectivity status.
Isotope Image Gallery
Create stunning and dynamic image galleries.
User-Centric Features
User ratings, profile pages, notifications, language selection, OTP pages, and password strength meter are among the many user-focused features.
eCommerce Ready
Dedicated shop pages make it suitable for online stores.
Google Fonts & Clean Code
Use an extensive range of Google Fonts and benefit from 100% validated clean code.
Cross-Browser Support
Ensures that your application functions seamlessly across different browsers.
Unique Design Elements
Stand out with unique design elements such as timelines, accordions, and counters.
Informative Blog Pages
Incorporate blogs to share knowledge or news related to your business or industry.
Download Affan Mobile Template
Affan – PWA Mobile HTML Template is a remarkable tool for any startup, agency, corporate, or ecommerce venture aiming to establish a commanding mobile web presence. Its robust set of features and versatility make it an ideal choice for developers. With a focus on user experience, responsiveness, and customizability, Affan allows you to create a wide range of applications that are visually appealing and functionally rich. Whether you are building a portfolio, a news platform, an online store, or any other type of mobile website or app, Affan has got you covered.