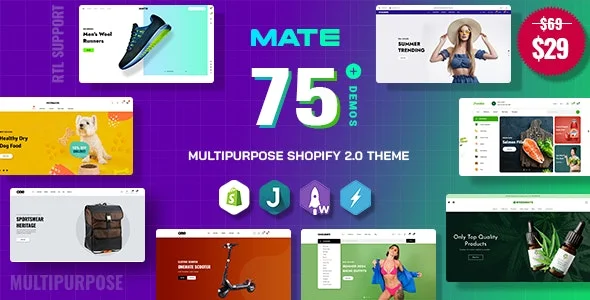 Revolutionize your e-commerce journey with Mate—the high-converting, multipurpose Shopify 2.0 Theme. Designed to fulfill every entrepreneur's dream, Mate offers a spectrum of over 70+ unique, pre-made homepages that are visually creative, user-friendly, and performance-driven. No matter what you intend to sell—from fashion and electronics to outdoor gear and games—Mate has got you covered. Let's delve into the limitless possibilities that Mate opens up for your online store.
A first glance at Mate's interface reveals an eye-catching but clean design, ensuring an engaging user experience. But there's more beneath the surface. Whether you're selling T-shirts or tech gadgets, managing a large inventory or just a few items, Mate's robust architecture is built to handle it all. With Mate, you're not just choosing a theme; you're opting for a versatile e-commerce partner that evolves with your business needs.
Feature Highlights: More Than Just a Pretty Face
Mate stands out for its extensive list of features that cater to both design and functionality. Here's a glimpse into its remarkable offerings:
Design-Centric:
70+ Pre-made Homepage Layouts: Enjoy the freedom to pick a layout that resonates with your brand.
Collection Page Styles: Eight diverse styles for organizing your product collections, including pagination options and infinity scroll.
Custom Pages: From FAQs to store locations, create unique pages to enhance your customer's experience.
Functionality Forward:
Drag & Drop Sections: Effortlessly customize every page with Shopify's drag-and-drop feature.
Mega Menu & Vertical Menu: Navigate your site easily with sophisticated menu options.
Multiple Currencies: Cater to a global audience with multiple currency options.
Built-in Wishlist & Quick View: Make shopping a breeze with a wishlist and quick-view features.
Dynamic Checkout: Ensure a smooth buying process with dynamic checkout buttons.
Lazy Loading: Improve your site's performance and user experience with lazy loading images.
Special Add-Ons:
Free Shipping Threshold Bar: Encourage customers to buy more with a visible free shipping bar.
Age Verification & Out of Stock Popups: Use popups wisely to inform and capture leads.
Ajax-powered: From adding to cart to updating it, enjoy a seamless Ajax-powered experience.
360 Product Section: Offer a 360-degree view of your products to aid in customer decision-making.
Conclusion: Mate – Your Ultimate E-commerce Solution
In a nutshell, Mate offers an extraordinary combination of design flexibility and functional brilliance, all under one roof. This Shopify 2.0 Theme is an incredible asset for any online entrepreneur aiming for high conversion rates and an impressive digital storefront. Its versatile design layouts and practical features like multi-currency support, dynamic filters, and lazy loading ensure you don't just meet but exceed customer expectations. But what truly sets Mate apart is its commitment to adaptability. With regular updates, you can trust that Mate will continue to be a steadfast partner as your e-commerce venture expands and evolves. So, go ahead and choose Mate as the cornerstone for your online empire; it's not just a theme, it's your next-level e-commerce solution.