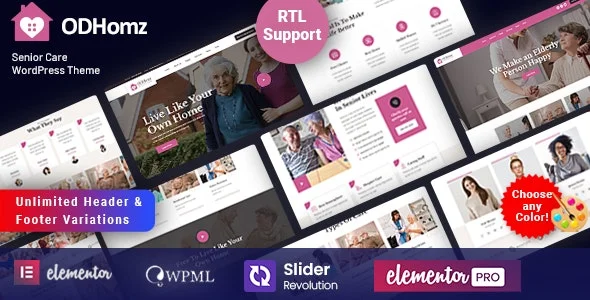 The modern world has witnessed an unprecedented intertwining of technology with almost every aspect of our lives. Elderly care, a vital and compassionate sector, stands on the brink of a significant digital metamorphosis. Stepping confidently into this evolving landscape is Odhomz, a WordPress theme thoughtfully crafted for senior care services. So, what sets Odhomz apart from the rest? Is it merely a blend of codes and designs or a testament to something deeper?
Odhomz is not just another name in the vast WordPress ecosystem; it symbolizes a transformative shift. With a keen understanding of the specialized needs of senior care, Odhomz champions a design philosophy rooted in simplicity, accessibility, and efficiency. The theme's primary mission? To ensure that institutions dedicated to elderly care shine online with professionalism, user-friendliness, and genuine empathy.
Every facet of Odhomz resonates with a profound comprehension of its target demographic – the elderly community and their families in search of superior care options. Its responsive design guarantees a seamless user journey, whether accessed from a desktop, tablet, or smartphone. Catering to the multifaceted world of senior care, Odhomz presents an array of layouts and elements tailored for care homes, medical provisions, nursing facilities, and retirement communities. In essence, Odhomz emerges as an all-encompassing digital platform set to revolutionize the online presence of senior care.
Diving into the Array of Features
Odhomz boasts a range of features designed to cater to the unique requirements of assisted living institutions, nursing homes, retirement homes, and other similar establishments.
Diverse Home Layouts: With 27 index home layouts and an additional RTL layout, the theme provides ample design choices to fit the distinct branding and functional needs of different institutions.
Elementor Page Builder: This makes website designing a breeze, allowing drag-and-drop functionality to sculpt pages that resonate with the institution's ethos.
Revolution Slider: A premium tool added at no extra cost, which means you save $25 and get to enjoy captivating sliders that add visual appeal to your pages.
Contact Tools: Integrated tools like Contact form 7 and MailChimp newsletter signups streamline communication with clients and stakeholders.
E-commerce Ready: With WooCommerce compatibility, institutions can easily incorporate online store functionalities for their products or services.
Multilingual Support: With WPML readiness, the theme is poised to cater to a global audience, eliminating language barriers.
Typography and Icons: Boasting a rich collection of Google fonts and icons from Font Awesome, Elegant Icons, IcoMoon, and more, the theme allows for diverse typographic and visual expressions.
Bootstrap-Powered: The underlying power of Bootstrap ensures the website's resilience and adaptability across devices.
Animations & Parallax: Add depth and dimension to your pages with smooth animations and parallax effects.
Documentation: A well-documented theme ensures that even those new to WordPress can harness its full potential with ease.
Conclusion: Embracing the Future with Odhomz
In the digital age, all sectors, including elderly care, need robust online platforms. Odhomz is a game-changer. This theme isn't just about sleek design or features; it addresses senior care's unique needs. Essentially, Odhomz bridges the gap between caregiving institutions and those seeking their services.
Selecting Odhomz signifies innovation. It reflects an understanding that elderly care must be accessible online. This theme makes services available at a click, ensuring clarity and outreach.
Its design is tailored for all devices. It showcases a commitment to being all-encompassing. With our global aging population, this adaptability is key.
In short, Odhomz is transformative. It brings senior care to the digital forefront, blending offline expertise with online reach. With this theme, elderly care websites step into the future confidently.