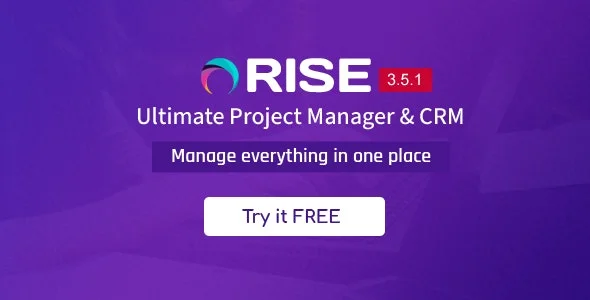 Enhancing productivity and boosting customer satisfaction is a dream for many businesses. Imagine a software that gives you everything you need to run your business efficiently and effectively. Welcome to RISE Nulled – the Ultimate Project Manager & CRM software.
RISE stands out as a powerful tool in the market of Project Management and CRM software. Designed with the user in mind, it offers a plethora of features that seamlessly bring together the various facets of managing projects, teams, clients, and even more – all under one roof.
In a fast-paced business world, having all your essentials in one place can be the difference between success and falling behind. RISE ensures that you stay ahead.
Features Breakdown
Projects
With RISE, managing projects has never been easier. Add unlimited projects, track time spent, set up milestones, collaborate with teams, and get timely feedback from clients. Your project progression is auto-calculated, so you're never in the dark about where you stand.
Tasks
Efficiently manage tasks, monitor their status, allow team members to comment and attach files, and even clone tasks for faster execution. Add checklists and labels to improve organization further.
Recurring tasks
Set up recurring tasks to automate regular responsibilities. Specify frequency, whether it's daily, weekly, monthly, or yearly.
Estimates and Invoices
From creating estimate request forms and sending estimates to converting them into invoices, RISE covers it all. Customize invoices to match your brand, set multiple taxes, and even automate recurring invoices.
Payments
Online payments are a breeze with support for Stripe, PayPal, and Paytm. RISE also provides options for partial payments and auto-generates payment confirmations.
Client Management
Keep all client-related information in one place. Provide them with individual dashboards, manage contacts, track projects, invoices, payments, and get feedback instantly.
Communication
RISE fosters communication, whether it's chatting with customers or team members. Enhanced collaboration reduces wait times and increases productivity.
Leads and Support
Manage potential customers, auto-collect leads, and handle customer support efficiently with support tickets and a comprehensive knowledge base.
Team Management
Onboard team members, assign roles, and track their activities. Monitor attendance, manage leaves, and ensure everyone's on the same page with announcements and timelines.
Customization and Integration
From custom fields, custom styles, and multiple dashboards to integration with Google Drive and Google Calendar, RISE offers flexibility to suit your business needs.
Security and Usability
Enhance security with Google reCaptcha and track team activities with activity logs. Built with Codeigniter 4, RISE's user interface is fast, intuitive, and user-friendly.
Download RISE PHP Script
Certainly, RISE is far from being just another project management tool. In fact, at its heart, it's a comprehensive suite explicitly designed for every intricate business need. This not only paves the way for efficient workflows but also consistently ensures satisfied clients. With such a compelling list of features, combined with its user-friendly design, it becomes evident why RISE is rapidly emerging as a top choice among businesses. Moreover, with its customization options, it's adaptable to various business models. Thus, if you're actively seeking to enhance operations, boost productivity, and elevate customer satisfaction, then turning to RISE is undeniably a wise move. So, as a recommendation, delve into the demo and see the magic for yourself!