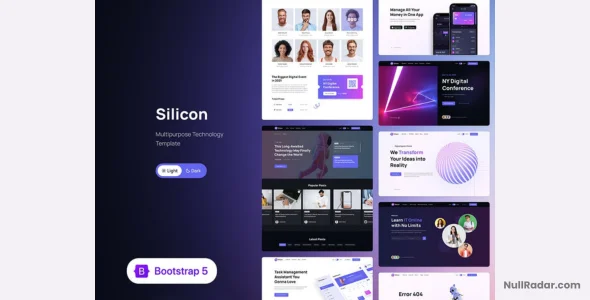 In an ever-evolving digital world, the need for adaptive and cutting-edge tools has never been more crucial. Silicon, an ultra-modern, multipurpose template with an emphasis on technology business niches, provides exactly that. This comprehensive template is specially designed for a broad spectrum of industries, including creative businesses, IT, software development, startups, and the corporate sector. The versatile Silicon template offers not just diversity but depth, accommodating different page templates, landing pages, blog and portfolio listings, and single pages.
Besides, Silicon extends its versatility to the realm of web applications. It boasts meticulously designed User Account screens for applications with registration and user account functionalities. Plus, its ability to switch between light and dark modes ensures an excellent visual experience to match user preferences.
Features
Landing Pages
Silicon houses an impressive collection of landing pages designed to meet various business needs. These pages include Mobile App Showcase v.1 and v.2, Startup, Product Landing, multiple SaaS versions, Financial Consulting, Online Courses, Medical, different versions of Software Dev Agency, Conference, and Digital Agency pages, and Blog Homepage.
Inner Pages
The template also comprises an assortment of inner pages such as About, Services, Service Details, and Contacts, each in multiple versions to cater to different requirements. You can also find custom-designed 404 Error pages.
Portfolio Pages
To showcase your work, Silicon offers a choice between Portfolio Grid View, Portfolio List View, and Portfolio Slider View. It also provides specific pages for Project Details.
Course Pages
For those in the eLearning business, there are dedicated pages for Courses and Course Details.
Blog Pages
A range of Blog List View, Blog Grid View, with or without sidebar options, Blog Simple Feed, and Single Post pages are included to host your content and podcasts effectively.
Account Pages
Silicon template provides a complete suite of user account screens including Account Sign In, Sign Up, Details, Security, Notifications, Messages, Saved Items, Collections, and Payment Methods pages.
UI Components
An extensive list of available UI components is available to ensure you can customize your digital space to perfection. Please follow the link to see the full list.
Dark and Light Modes
Silicon stands out with its ability to switch instantly between dark and light modes, matching the changing preferences of the users for a seamless user experience.
Documentation
Silicon ensures you get started with ease. An online documentation link is provided to assist you every step of the way.
Download Silicon – Business / Technology Template + UI Kit
Silicon proves to be more than just a template; it's a one-stop solution for businesses looking to carve their niche in the digital space. With an extensive list of features, Silicon offers a level of customization that's unparalleled, helping businesses create a digital platform that aligns perfectly with their brand.
Moreover, Silicon understands the evolving digital user preferences and needs, as seen in its features like the dark and light modes, and a complete set of user account screens. The bottom line is, whether you're a startup or a well-established business, Silicon provides you with a flexible, adaptable, and feature-packed template to achieve your digital aspirations.
Experience the future of digital experiences with Silicon – the business and technology template designed for success!