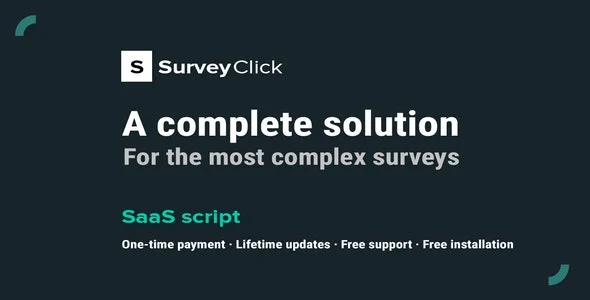 SurveyClick is a PHP script for creating surveys. With so many options, you can create the most complex surveys. Using the filters, you can generate, compare, and share reports.
SurveyClick Individual Use
No monthly fees
There will be no more monthly fees or restrictions. With SurveyClick, you can create your own rules without ever paying a fee.
All questions you need
There are over 20 different types of questions. So you can create the survey you envision.
Unlimited collectors
Don't mix up your responses? Collect survey responses from various collectors for the same survey.
Filters, filters, filters
Find the answers you need and create the reports you want quickly and easily. You have a plethora of filters.
Save reports
Save an unlimited number of reports and compare them over time.
Labeling responses
Responses can be labeled and used in special reports.
Save, export, print
Export and print a report, and compare two reports side by side.
Work with your team
Share surveys, reports, and conversations with your team.
Statistics & reportings
From average response time and approval and rejection rates to a geographical overview
Multiple templates
Choose from a variety of survey templates with ease.
Validate responses
Use points to validate surveys, reject unwanted responses, and collect only the information you require.
Customize
Change meta tags, upload a logo, and personalize the text
Business
Provides full-service surveying
Become a business owner and provide all of the services listed above to your customers.
Invoicing system
Invoicing system built in, so you have everything you need for your business in one place.
All reporting you need
You have a clear understanding of the services you offer.
Monthly subscriptions
Manage individual or team monthly subscription packages. Prices may be set to vary based on the number of months purchased.
Paid responses service
Respondents are also welcome! They can take surveys and earn commissions.
Audience
You can provide an audience selector based on country, age, or gender with your paid responses service.
Loyalty shop
Respondents can earn loyalty points by taking special surveys or inviting friends.
Referral program
There is an unlimited-level referral program available. The system employs loyalty points, which can be redeemed at the loyalty shop.
Powerful CMS
Your admin panel makes it simple to manage the content on your website.
Responsive designs
All of the front-end, back-end, and survey templates are responsive.
Themes/Plugins
SurveyClick PHP Script is also open to new themes and functionality additions.
Performance
No matter how attractive your website is, if it is not well optimized, it is useless. SurveyClick has been tested with tens of millions of responses.
Multi-language
Every country has a multi-language option as well as a date format, hour format, and default timezone. Countries can be autodetected.
Vouchers
Vouchers are an excellent marketing tool because they can be applied to deposits and can be for fixed amounts or a percentage of the deposit.
Download SurveyClick PHP Script
SurveyClick is a PHP script for creating surveys. You can design the most complex surveys thanks to the wide range of options. The filters enable you to create, compare, and share the reports you require.