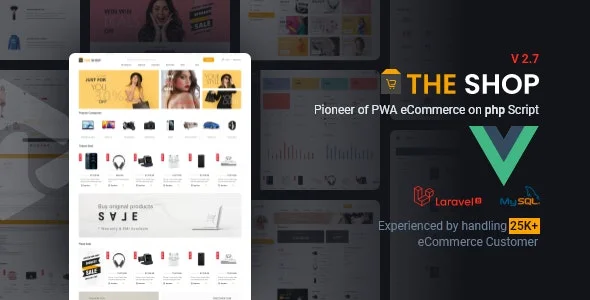 The Shop – PWA eCommerce cms Nulled
In a digital age dominated by eCommerce giants, the call for unique, efficient, and powerful platforms is louder than ever. Amidst the crowded market, a new contender rises to the challenge, promising both simplicity for the seller and an unparalleled user experience for the shopper. Introducing The Shop – PWA eCommerce CMS, available on CodeCanyon. This isn't just another CMS; it's a paradigm shift in online shopping solutions.
Overview: What is The Shop – PWA eCommerce CMS?
The Shop is a cutting-edge Progressive Web App (PWA) eCommerce content management system (CMS) available on the renowned digital marketplace, CodeCanyon. This platform is designed to be both robust and user-friendly, ensuring that business owners, irrespective of their technical proficiency, can set up and manage their online store with ease. Moreover, as a PWA, it ensures swift, app-like experiences for users without the need for them to download an app, streamlining the shopping process and ensuring customer retention.
Features
Progressive Web App (PWA) Integration
One of the standout features, the PWA integration ensures that users experience faster load times, offline access, and the ability to save the platform to their home screen, much like an app. This provides a native app experience without the hassle of app store downloads.
Intuitive CMS
Simplicity meets functionality. Whether it's product uploads, inventory management, or tracking sales, the CMS is designed to be straightforward, removing the complexities often associated with online store management.
SEO Optimized
In the competitive world of online retail, visibility is key. The Shop is built with SEO best practices in mind, ensuring that your products and services gain the online visibility they deserve.
Responsive Design
No matter the device – be it mobile, tablet, or desktop – The Shop ensures a seamless user experience, adapting perfectly to any screen size.
Integrated Payment Gateways
Ease of transaction is ensured with multiple integrated payment gateways, offering both sellers and buyers flexibility and security in transactions.
Customizable Themes
Each brand is unique, and The Shop understands this. With a myriad of customizable themes, businesses can ensure their online store mirrors their brand identity and ethos.
Download The Shop PHP Script
In the vast sea of eCommerce platforms, The Shop – PWA eCommerce CMS stands out. Instead of being just another option on CodeCanyon, it points to the future of online retail. It seamlessly fuses the strengths of web and mobile apps and offers an easy-to-use management system. Brands aiming to leave a lasting impression in the online marketplace should consider The Shop. Embrace this platform for an unmatched eCommerce experience. With The Shop, you're not just choosing a tool; you're choosing the path to online excellence.