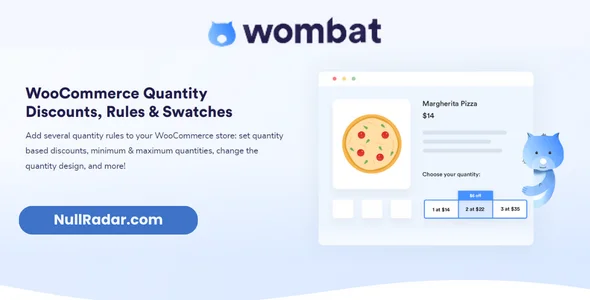 WooCommerce, a widely acclaimed e-commerce plugin for WordPress, is known for its versatility and customization options. However, enhancing customer experience and maximizing profits requires advanced functionalities that go beyond the basic features. Introducing the WooCommerce Quantity Discounts, Rules & Swatches plugin by Studio Wombat; a powerful addition to your e-commerce arsenal. This plugin enables store owners to apply multiple quantity rules, set quantity-based discounts, redefine the quantity design, and more. With its easily configurable settings and visually appealing design elements, it's set to bring a remarkable change to your WooCommerce store.
Features
Bulk Quantity Discounts & Tiered Pricing
One of the hallmarks of the WooCommerce Quantity Discounts, Rules & Swatches is its ability to set bulk quantity discounts, also known as tiered pricing. Merchants can define different price ranges for various quantities. This feature is extremely effective for encouraging customers to purchase more products by revealing the decreasing cost per item as they increase the quantity.
Quantity Swatches with Customization
Quantity Swatches allows store owners to revamp the default WooCommerce quantity design with stylish, clickable buttons. The plugin grants complete control over swatch designs, including colors and text, thus creating a visually compelling shopping experience.
Advanced Quantity Control
This feature enables store owners to set minimum and maximum quantities for each product, ensuring a tailored shopping experience for different products. Additionally, you can specify allowed quantity increments, effectively changing the default WooCommerce quantity settings.
Step Intervals
Step intervals allow customers to purchase products in defined quantity multiples (e.g., increments of 5). This can be beneficial for items that need to be sold in batches or sets.
Informative Prompts
Customer experience is enhanced by informative prompts which guide them through the purchasing process. If a customer selects an ineligible quantity, the plugin will display helpful messages to correct the error.
Multilingual Support
The global market demands a multilingual approach, and this plugin delivers. Translation-ready capabilities make it easier for store owners to cater to a diverse customer base.
Performance Oriented
WooCommerce Quantity Discounts, Rules & Swatches plugin only supports newer versions of WooCommerce and WordPress, ensuring compatibility with the latest features and optimized performance due to modern, fast code.
Easy and Fast Setup
The plugin is user-friendly and easy to set up, regardless of your level of expertise. The seamless integration and intuitive configuration save you time and effort.
Download WooCommerce Quantity Discounts, Rules & Swatches plugin
The WooCommerce Quantity Discounts, Rules & Swatches Free plugin is an invaluable asset for WooCommerce store owners seeking to escalate their business and augment the customer experience. With an array of features such as tiered pricing, customizable quantity swatches, advanced quantity controls, and multilingual support, this plugin not only empowers the merchants but also offers a streamlined and engaging shopping experience for the customers. Its emphasis on performance and ease of use makes it a must-have addition for any WooCommerce store aiming for the pinnacle of e-commerce success.