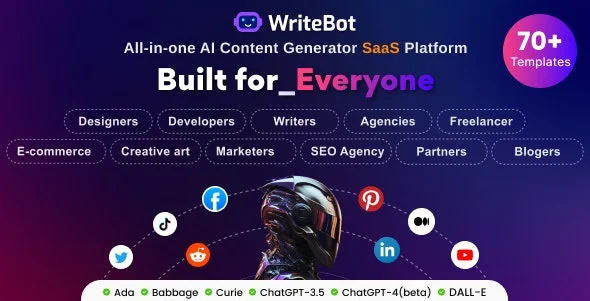 In today's digital age, content creation plays a crucial role in driving online success. Whether you're a marketer, copywriter, blogger, or social media manager, producing high-quality and engaging content is essential to capturing your audience's attention. However, the process of creating content can be time-consuming and labor-intensive. This is where WriteBot, an innovative SaaS platform powered by OpenAI Artificial Intelligence, steps in to revolutionize the content generation process. With a host of cutting-edge features, WriteBot empowers users to effortlessly produce unique and plagiarism-free content, images, and even code across multiple languages.
Features
Content Generation Across Various Industries
WriteBot is a versatile SaaS platform designed to cater to the needs of various industries and professionals. Whether you're a marketer looking to create compelling ad copy, a journalist in need of breaking news articles, an eCommerce professional requiring engaging product descriptions, an educator developing educational content, or even a songwriter seeking lyrical inspiration, WriteBot has got you covered.
AI-Powered Image Generation
In addition to textual content, WriteBot harnesses the power of OpenAI's DALL-E 2 models and Stable Diffusion technology to generate stunning images effortlessly. Perfect for web designers, social media marketers, bloggers, and content creators, WriteBot's image generation capabilities add visual appeal to your content.
Speech to Text Transcription
WriteBot offers a convenient Speech to Text feature, powered by OpenAI Whisper, enabling users to transcribe audio and video files quickly and accurately. This functionality is especially beneficial for content creators dealing with multimedia content and looking to convert spoken words into written text seamlessly.
Multiple Language Support
With WriteBot, language is no barrier. The platform supports a wide range of languages, making it a valuable tool for businesses with an international presence or content creators targeting diverse audiences worldwide.
Customizable OpenAI Models
Users have the flexibility to choose from various OpenAI models, including ChatGPT 3 (Ada, Babbage, Curie, Davinci), ChatGPT 3.5 (turbo), and even ChatGPT 4 (Beta). This customization ensures that users can access the specific AI capabilities that best suit their content generation needs.
Pre-made Templates for Quick Content Creation
WriteBot provides a library of 72 built-in pre-made templates, covering a wide range of content types such as blog sections, email templates, social media posts, product descriptions, creative stories, and much more. These templates serve as a starting point, saving time and effort for content creators.
Payment Gateway Integration
For easy and secure transactions, WriteBot supports multiple payment gateways, including PayPal, Stripe, PayTm, Razorpay, IyZico, Paystack, Flutterwave, Duitku, Yookassa, and more. This ensures a seamless payment process for customers using the platform.
SEO Optimization
WriteBot is designed with SEO in mind, incorporating features to analyze keywords and optimize generated content for search engines. This enhances the visibility and organic reach of your content, driving more traffic to your website.
Download WriteBot PHP Script
WriteBot is a game-changing AI Content Generator SaaS Platform that revolutionizes the way content is created. With its powerful AI-driven capabilities, users can effortlessly generate high-quality, plagiarism-free content and stunning images, saving time and increasing productivity. Whether you're a marketer, blogger, content writer, or social media manager, WriteBot offers a comprehensive solution to meet your content creation needs. Its language versatility, customizable AI models, and integration with multiple payment gateways make it a top choice for businesses and professionals worldwide. Embrace the power of WriteBot and unlock the potential of AI content generation to take your content strategy to new heights. Get ready to streamline your content creation process and witness remarkable results with WriteBot!