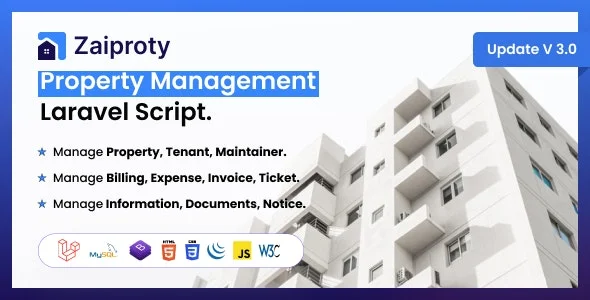 The realm of property management has, for the longest time, been synonymous with intricate, often cumbersome, processes. Traditional property management often felt like threading a needle in dim light – painstaking and time-consuming. Enter Zaiproty – the harbinger of a new dawn in property management. With an arsenal of cutting-edge tools, it beckons property managers, owners, and tenants into an era of streamlined operations, crystal-clear communication, and peak efficiency.
A Glimpse into the Future: Overview of Zaiproty
Zaiproty isn't just software; it's an entire ecosystem dedicated to simplifying the complex world of property management. Crafted with the meticulous precision of Laravel and the responsive elegance of Bootstrap, Zaiproty stands as a beacon of what contemporary property management can achieve. It elegantly fuses technology with practicality, delivering a platform that's as powerful as it is user-friendly.
At its core, Zaiproty serves as a conduit, seamlessly connecting property owners, maintainers, and tenants. It metamorphoses the herculean task of juggling multiple properties, tenants, and maintenance requests into a breeze. No longer are property stakeholders bound by the shackles of manual, error-prone processes. With Zaiproty, every aspect of property management, from lease tracking to rent collection, evolves into a streamlined experience.
Features
Centralized Management Hub: With the capability to manage multiple properties, tenants, and maintainers from a singular platform, Zaiproty ensures that managers have an eagle's eye view of all operations, always.
Financial Mastery: With features like Billing & Invoice and Expense Management, financial oversight becomes clear, easy, and efficient.
Document & Information Mastery: Say goodbye to misplaced documents or lost information. Zaiproty's robust document and information management features ensure everything is just a click away.
Advanced Support & Communication: The built-in Support Ticket System provides a clear channel for addressing issues or queries, ensuring that communication never breaks down.
Payment Flexibility: Integrating 8 popular payment methods and gateways, Zaiproty ensures rent payments are as simple and versatile as possible.
Security First: Features such as XSS protection and Bcrypt password hashing prioritize user security, ensuring peace of mind.
Adaptability at its Best: Whether it's multi-language support or the ability to change theme colors, Zaiproty guarantees a tailored experience for every user. Add in mobile responsiveness and RTL support, and you have a platform that's truly global.
Maintenance & Reporting: The Maintenance Mode ensures seamless updates, while the Advanced Reporting feature provides in-depth insights for informed decision-making.
Concluding Thoughts: The Zaiproty Pledge
Zaiproty isn't just a tool; it's a promise—a promise of seamless property management, of clear communication, and of enhanced profitability. In its essence, it stands as a testament to the fact that with the right technology, even the most complex tasks can be simplified.
For property stakeholders, this isn't just about an upgrade; it's about embracing a paradigm shift. It's about choosing clarity over confusion, efficiency over effort, and technology over tediousness. As we navigate the evolving landscape of property management, Zaiproty stands tall as a beacon, illuminating the path to a future where property management is not just efficient but enjoyable. So, as we embark on this journey of transformation, let's do so with Zaiproty leading the way. Because with Zaiproty, the future of property management is not just bright; it's revolutionary.